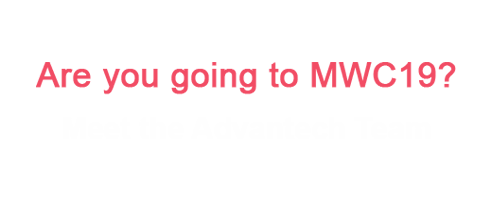 Empowering Network Transformation at MWC19
Executive Meeting
Room
#5L16MR
Universal CPE
with
ENEA #6G10
Slim CPE Showcase
at
TAITRA #7G50
Live Streaming Demo
with
CHUNGHWA #5A61
vRouter Demo
with
6WIND #5L16MR
Advantech is back in Barcelona for MWC19 with best-in-breed server class platforms and acceleration coupled with innovative ecosystem solutions for the customer, enterprise and network edge:
Universal CPE & SD-WAN Solutions
Next Generation Central Office Servers: vRouter, vBNG & vEPC
Edge Routers & IoT Gateways
OTT Streaming & AI Acceleration
Meet the Advantech Networks and Communications Group team and discover how we can help you accelerate network transformation with deployment-ready solutions that bring intelligent connectivity to enterprise, mobile and residential subscribers with faster time-to-revenue.
On behalf of the Advantech team, we are looking forward to exchanging visions, sharing roadmaps and exploring new opportunities together with you at MWC19.

Ween Niu
General Manager
Networks & Communications Group

Book a meeting
Key Advantech Highlights at MWC19

Universal CPE and SD-WAN
Do you need to drive cost out of your current Enterprise infrastructure? Reserve a slot for one of our live networking demos at Advantech's meeting room in Hall 5 #5L16MR . You will discover market leading uCPE white boxes ready for deployment featuring flexible LTE, Ethernet and WiFi connectivity and scalable performance from Intel® Pentium® to Intel® Xeon® Scalable Processors and enabled by software from key uCPE and SD-WAN ecosystem partners including ADVA, ENEA and Telco Systems and Versa Networks.
Our uCPE solutions can also be found on the show floor at ENEA and TAITRA stands #6G10 and #7G50 respectively.

Service Provider Networks & Next Generation Central Office Servers
Leverage Advantech SKY servers to transform traditional central offices into open and programmable aggregation points ready to host the 5G converged smart edge. You can chose from a wide range of commercially available solutions from selected software partners to deploy provider edge functions such as vBNG, vEPC, vCMTS, vSecGW or vRouters into a mini data center configuration capable of serving tens of thousands of subscribers based on Advantech SKY 8200 Series servers which have been designed for high performance packet processing while fulfilling the requirements of edge network locations.
Visit the Advantech meeting room for an exclusive 6WIND Border Router demo or a vRouter demo with 6WIND and Cloudify. Find out more by booking a meeting with Advantech in Hall 5 #5L16MR.

Intel Select Solutions for NFVI & uCPE
Are you looking to shorten your NFV time to market? Discover the Advantech platforms which have been verified as Intel Select Solutions for NFVI and uCPE. Based on the Intel® Xeon® Processor D and Scalable family, these platforms provide fast access to workload-optimized configurations with the objective of accelerating deployment of NFV solutions.
Ready to ship as pre-configured platforms, the FWA-3050, SKY-8201 and FWA-6170 are also available for benchmarking through Advantech's Remote Evaluation Services. Communications service providers, integrators and ecosystem partners can leverage this service to conduct early testing and network modelling reducing integration risks when rolling-out next-generation services.
Book a meeting in Hall 5 #5L16MR to check out our Intel Select Solutions and discuss your ideal working model.

Edge Routers & IoT Gateways
Advantech's range of scalable network appliances and high performance, short-depth, industrial SKY servers provide true server-class processing with rich and secure connectivity options that can provide low latency data pre-processing, stream processing and analytics. Complementing Advantech's portfolio of IoT devices and gateways, these platforms help to close the gaps in the network infrastructure for IoT deployments that can meet desired QoS metrics.
Find out more by booking a meeting with Advantech in Hall 5 #5L16MR.

AI & Video Acceleration
5G use cases such as Artificial Intelligence or 4K/8K Live Streaming are new revenue-generating opportunities that will require extensive video image processing at different points in the network infrastructure. Come and discover how Advantech's VEGA portfolio can help you optimize the use of computing resources when deploying new high-bandwidth, low-latency, video-centric services. Book a meeting with us to discuss our new VEGA 4000 family of PCI Express cards based on Xilinx's Virtix UltraScale+ FPGAs which have been widely chosen by developers to accelerate cloud-based AI and OTT live streaming workflows such as video transcoding, deep learning, big data analytics and genomics thanks to their great signal processing bandwidth and breakthrough speeds.
Our VEGA video solutions will also be part of Chunghwa Telecom ultra low-latency streaming demo at stand #5A61.

North America
13 Whatney, Irvine,
CA 92618 USA
Europe
Ekkersrijt 5708 Science
Park, Eindhoven 5692 ER
Son, The Netherlands
Taiwan
No.33, Lane 365, Yang Guang
St., Neihu Dist., Taipei, 11491,
Taiwan, R.O.C.
Contact our global offices or email us at ncg@advantech.com for more information.